Spinning wheels made in England, Ireland, Scotland and Wales during the 20th century
JIM HENNEQUEN SPINNING WHEEL
Jim Hennequen was the maker of a "fine 25 1/2" diameter ash wheel" photographed on p.19 of Jill Goodwin's book A Dyer's Manual, first published in 1982. Jim's wheels have his signature under the table and the address of a farm near Ross-on-Wye (see the fourth photograph below). The style of the wheel is saxony with a gently sloping table, large drive wheel and tall maidens. It is a fairly simple design, the wheel spokes are straight with no shaping and the wheel supports are wide and flat, not turned.
The wheel in the photographs below is made from more than one type of wood. The person who supplied the photos notes that this spinning wheel "...seems to prefer an unheated, damp location where it all holds together nicely - the bobbins stay put, the legs don't move and the treadle doesn't fall out!". This is common where the moisture level in the timber at the time the wheel was made was higher than is normal in a centrally heated home, and wheels like this can be repaired so the joints will hold together in drier conditions.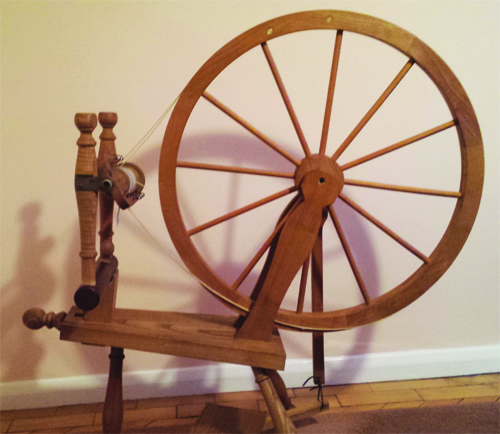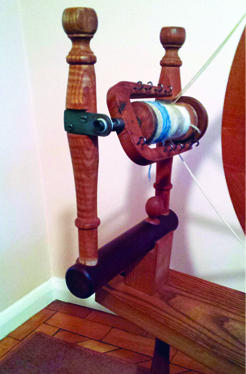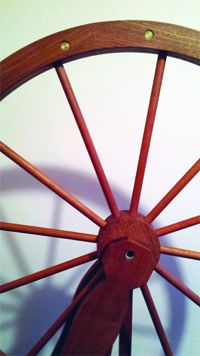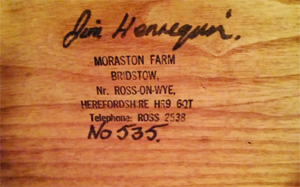 Website copyright 2013-2023 Dorothy Lumb. Contact me via the YarnMaker website.